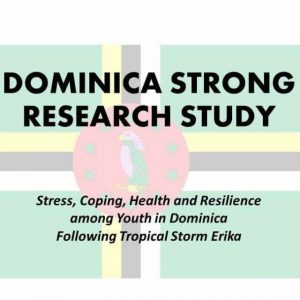 Click Here  for a Research Report on the Key Findings from Phase I of the Dominica Study.
Project Title: "Dominica Strong: Stress, Coping, Health, and Resilience among Youth in Dominica Following Tropical Storm-Erika (TSE)"
On August 27, 2015, the island of Dominica was hard hit by Tropical Storm, Erika. The storm caused severe damage and loss of life, particularly in the southern village of Petite Savanne, where approximately 20 individuals lost their lives. This project was launched in order to assess the psychological impact of the storm among youth in Dominica.
Study Objectives:
To document the levels of psychological distress among youth post-TSE
To determine the coping mechanisms (e.g., psychological, interpersonal) that youth have employed to deal with the physical and psychological impact of TSE
To examine factors (e.g., spirituality, meaning-making) that buffer the negative impact of the experience of TSE on psychological wellbeing, and thus determine factors that promote resilience among youth in Dominica
Key Constructs: stress, coping, health, resilience, sleep.
Sample: High school and college students in Dominica.
Data collection for phase I of the study took place between February 15 and 29, 2016. Phase II is scheduled for early 2017.