Royette Tavernier Dubar, P.h.D is the director of the S.P.A Lab. She was born and raised on the island of Dominica (not to be confused with the Dominican Republic); pursued studies at the University of St. Martin (Philipsburg, St. Maarten), Trent University (Peterborough, ON, Canada), and Brock University (St. Catharines, ON, Canada) before her post-doctoral fellowship at Northwestern University (Evanston, IL, U.S.A). When she is not preparing lectures, analyzing data, or writing manuscripts, she is either cooking, catching up on Nexflix shows, going on adventures with her husband, or sleeping.
Current Research Assistants
Andrea is a senior from Hartford, Connecticut. She is pursuing a major in Psychology with an Education Studies minor. She is interested in clinical and developmental psychology and how they relate to sleep disorders. Her interests include running, reading about the paranormal, and experimenting with cosmetics. After Wesleyan, she intends to pursue graduate studies in psychology.
Sammi is a junior Psychology and Behavioral Neuroscience double major from San Francisco, CA. She is interested in exploring cultural (race-ethnicity, immigration) factors related to sleep in the U.S. She is a McNair fellow and plans to pursue a Ph.D. in Clinical Psychology. In her free time, Sammi likes to draw, listen to music, cook, and play League of Legends.
Grant is a senior ('20) Neuroscience & Behavior and Italian Studies double major from Sedona, Arizona. Grant's research interests are focused on substance use and social media use with a special attention to the maladaptive coping mechanisms which serve as the foundations of addiction. Outside of the lab, Grant is involved in charity work for the Connecticut Children's Medical Center, enjoys running, and is excited about learning new ways to enhance well-being through nutrition. In the future, Grant plans to complete the B.A./M.A. in Psychology at Wesleyan.
Lily is a senior ('20) Psychology and Feminist, Gender, & Psychology double major and a German Studies minor from Portland, Oregon. She is passionate about working with children and is interested in the intersection of sleep psychology and cognitive development. Lily plans to go on to pursue a career in social work, focusing on children and adolescents. Outside of the lab, Lily sings in an a cappella group, works as an interviewer in the Wesleyan Admissions Office, and enjoys true crime podcasts.
Matiza is a junior ('21) French Studies major and Chemistry minor on the pre-med track from Virginia. Matiza's research interests are focused on sleep patterns in people who become disadvantaged socioeconomic backgrounds. Outside of the lab, Matiza is involved in creating content for her YoutTube channel, volunteering with Wesleyan Science Outreach, being Secretary of the BLAC Pre-Med Society on campus, and tutoring. In the future, Matiza plans to complete the B.A/M.A program of the Psychology department at Wesleyan and then head off to medical school to become a doctor.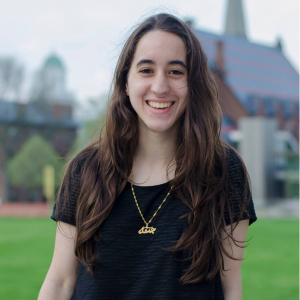 Janna is a senior ('20) from Warrensburg, Missouri. She is majoring in Psychology and minoring in Data Analysis with a certificate in Informatics and Modeling. She is particularly interested in the factors at play in the regulation of sleep and adjustment into university. Outside of the lab, Janna enjoys traveling, reading up on current events, and cooking. She intends to pursue graduate school in psychology in the near future.
Delaney is a junior at Guilford High School in Guilford, Connecticut, who hopes to double major in Neuroscience and Statistics at university. Her work at the S.P.A Lab this summer will help enrich her senior capstone project, which explores the relationship between waking and dream emotions. Outside of school, Delaney loves playing soccer and reading.
Yuting is from Beijing, China. She is currently a junior student at Choate Rosemary Hall, a private high school located in Wallingford, Connecticut. She is very interested in psychology and is excited to study related topics at university. In her free time, Yuting enjoys drawing, listening to music, and watching movies.